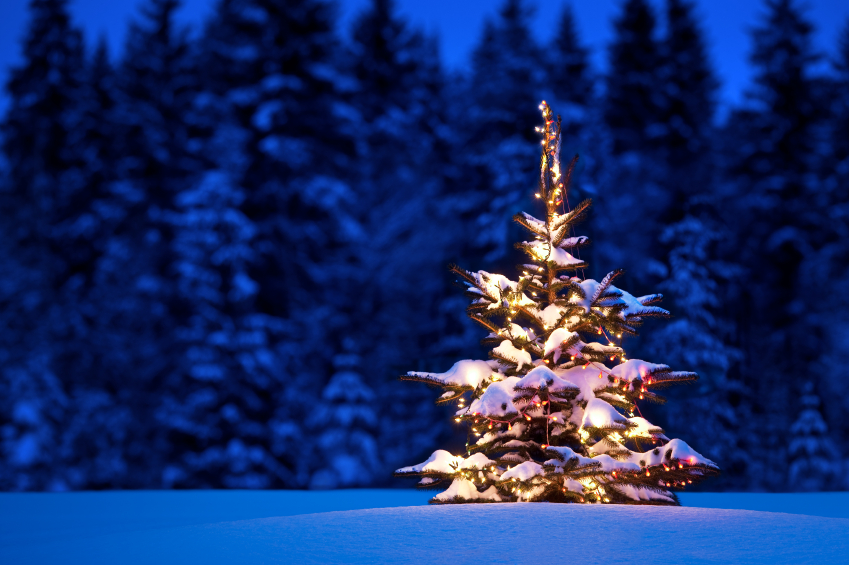 Vancouver, WA, November 8, 2023– Tis the season to create memories and explore the forest while finding a holiday tree for your home! Starting November 16, 2023, visitors may buy Christmas tree cutting permits in-person at Mt. Adams, Mount St. Helens, and Cowlitz Valley Ranger District offices and many local vendors. Permits cost $5.00 each, using cash, check, or credit card.
Online permits may also be purchased now at Recreation.gov. Additional administrative fees will apply to all online sales. It is important to carefully read the overview and need-to-know information before purchasing the permit. You will need to bring your printed permit with you onto the forest.
There is a limit of five permits per household, and permits are valid for one-time use. Christmas tree permits include a map of areas that are closed to cutting and an information sheet with special instructions for cutting your tree on the national forest.
Households with fourth graders can get a Christmas tree cutting permit for free! After earning their Every Kid Outdoors pass online, fourth graders simply need to show their valid paper voucher or Every Kid Outdoors pass at national forest office for their free Christmas tree permit. Fourth graders and their parents should visit everykidoutdoors.gov for more details and to obtain their paper voucher.
To ensure a successful trip, make sure to plan and prepare. Ranger District office and vendor hours may vary, so be sure to call ahead to check current operational hours. Be aware that winter weather in the forest can change rapidly and that most forest roads are not maintained for winter driving. Forest staff recommend bringing traction devices and a shovel, extra food, drinking water, winter clothing, blankets, a flashlight, and a first aid kit. Don't forget a tool for cutting the tree and a rope or cord to secure it to your vehicle. Tree cutting and travel may take longer than anticipated, so let a friend or family member know where you are going, get an early start, and leave the woods well before dark.
For additional information and a video on successful tree harvesting please visit our website: www.fs.usda.gov/goto/gp/treepermit
For more information on current road status and closures please visit: www.fs.usda.gov/recmain/giffordpinchot/recreation#conditions
This year visitors can purchase Christmas tree permits at the following Forest Service offices and vendor locations:
Forest Offices:
Adams Ranger District, 2455 Highway 141, Trout Lake, WA 98650; (509) 395-3400
Mount St. Helens National Volcanic Monument & District Office, 42218 N.E. Yale Bridge Rd., Amboy, WA 98601; (360) 449-7800
Cowlitz Valley Ranger District, 10024 US Hwy 12, Randle, WA 98377; (360) 497-1100
All Forest Service offices will be closed Thanksgiving Day Nov. 24, 2022.
Vendor Locations (Call for hours of operation and information):
Amboy, WA – Chelatchie Prairie General Store (360) 247-5529
Ashford, WA – Ashford General Store (360) 569-2377
Ashford, WA – Ashford Valley Grocery (360) 569-2560
Carson, WA – Wind River Market (509) 427-5565
Cougar, WA – Lakeside Country Store (360) 238-5202
Cougar, WA – Cougar Store (360) 238-5228
Cougar, WA – Lone Fir Resort (360) 238-5210
Elbe, WA – Elbe Mall (360) 569-2772
Home Valley, WA – Home Valley Store (509) 427-4015
Kelso, WA – Sportsman's Warehouse (360) 423-2600
Morton, WA – Quicky Mart/Shell Gas Station (360) 496-5553
Packwood, WA – Blanton's Market (360) 494-6101
Randle, WA – Fischer's Market (360) 497-5355
Stevenson, WA – Main St. Convenience Store (open 24 hours) (509) 427-5653
Trout Lake, WA – Little Mountain (True Value) Hardware (509) 395-2773
Vancouver, WA – Sportsman's Warehouse (360) 604-8000